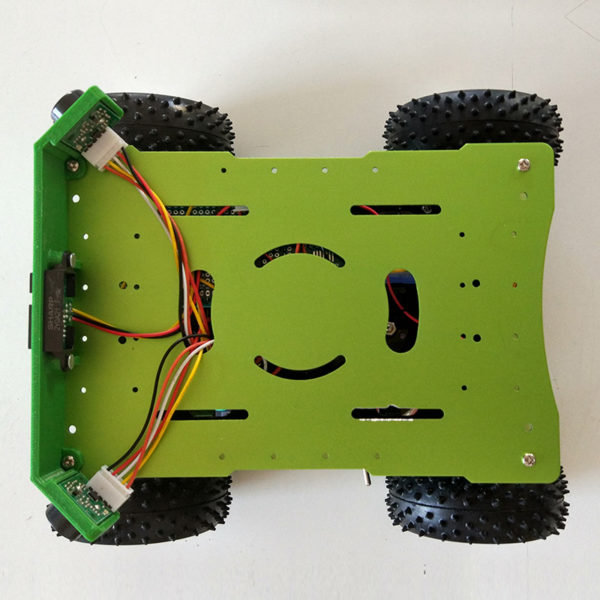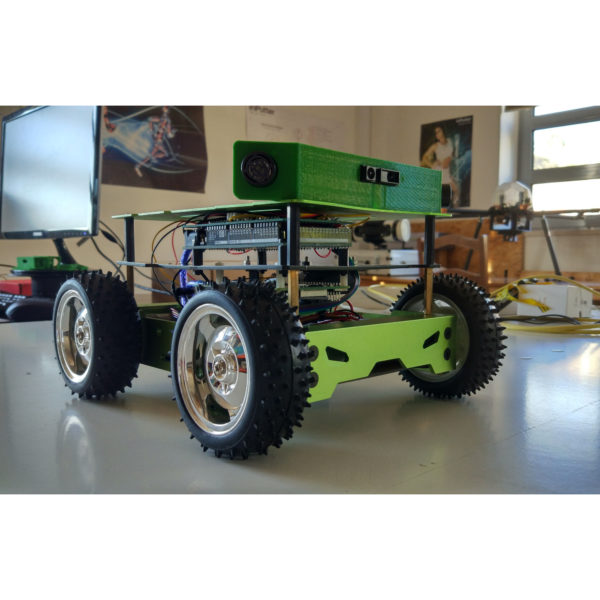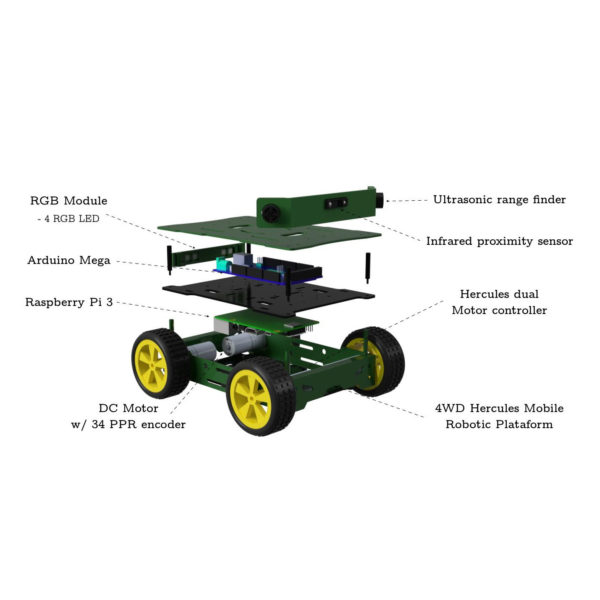 RobotCraft Bot 2020
Price exc. VAT (23%)
The robot includes the following features:
4WD Hercules mobile robotic platform with solid shell made up of aluminium and PLA
2 x DC motors
2 x DC motors with 34 PPR encoders
2 x Devantech SRF02 I2C ultrasonic range finder
1 x Sharp GP2Y0A21YK infrared proximity sensor
4 x Smart RGB LEDs WS2812B with integrated driver chip
1 x Hercules dualmotor driver 15A 6-20V Arduino-compatible controller
1 x Arduino Mega 2560 for low-level control (firmware with PID controller included)
1 x Raspberry Pi 3 for high-level control, fully integrated in the Robot Operating System (ROS) (ROS with specific routines included)
No battery included: Requires LiPoBattery 7.4V 2400mAh
2 in stock
Description
Additional information
Reviews (0)
Description
RobotCraft Bot 2020 is a limited edition of mobile robots constructed during the 5th Robotics Craftsmanship International Academy (RobotCraft 2020).
This robot is based in the Hercules platform, benefiting from the same Arduino-compatible motor controller that can consistently support the current up to 15A and driving voltage in the range of 6V-20V. Nevertheless, this robot additional includes an Arduino Mega board so that the platform can be easily controlled using a PID controller and the 34 PPR encoders. The Arduino firmware (available as download) also allows to control 4 Smart RGB LEDs WS2812B and read measurements taken from 2 Devantech SRF02 ultrasonic range finder and 1 Sharp GP2Y0A21YK infrared proximity sensor.
But this is not the only novelty: the platform is fully integrated in the Robot Operating System (ROS)!
A Raspberry Pi 3 with Ubuntu 18.04 LTS installed do the honours by running the ROS Kinetic Kame distribution and interfacing with the Arduino board through rosserial. All necessary topics are available in the ROS side, making it easy to implement any AI algorithm at will – teleoperation and some few other routines are already included in the high-level ROS layer (available as download).
Downloads:
https://gitlab.ingeniarius.pt/ingeniarius_public/robotcraft_bot
Low-level Arduino layer with PID controller
High-level ROS layer with specific routines included